About us
Welcome to ACS Air Conditioning
ACS specialise in the supply, intallation, repair and maintenance of air-conditioning systems, Cellar Coolers, Cold Rooms.
See photos of our installations
ACS is a family run business covering North Wales, Cheshire, Wirral and Shropshire. Our mission is to provide a quality and affordable service to all customers, we specialise in shops, offices, vets, doctors and dentist surgeries, we also install in your home and conservatory. Please don't hesitate to contact us for your requirements.
Air Conditioning Wrexham & Chester

ACS specialise in Air Conditioning systems, Cellar Coolers and Cold Rooms.
Working with supply of new installations, repair of existing units & regular planned maintenance of existing units.


Air Conditioning Heats as well as Cools!

Heat pumps are integral to an air conditioning system, transferring heat from one environment to another via a refrigerant.

Heat pumps also offer a cost-effective heating solution - and air source heat pumps are recognised as a renewable heat technology.

In cooling mode, heat pumps work by transferring the heat from a room or internal space to the outside air, thus cooling the inside area. In reverse, heat pumps can extract latent heat from the outside air (even when the temperature is down to -20°C) and pump it inside to heat indoor spaces.

New Installations

Conservatories

Servicing

Maintenance

Cellar & Walk In Chillers & Fridges

Heat Exchange Systems & Heat Exchange Units

Climate Chamber Units (Stagionello)

Solar Assisted Heat Pumps (Magic Thermodynamic Box)


How to find us
Testimonials
Wow this outfit know their business! We rang them up,they came (when they said the would), they advised us (we took their advice) and do we regret it ! not one bit. We have had fitted a toshiba floor mounted unit,we can't see the pipes, wire nothing. The conservatory is now cool in the summer and get this,warm in the winter and the unit is so quiet,to put it simply we were and still are thrilled with the whole experience. We cannot recommend ACS air conditioning enough,reliable,fair and very professional.
The Archers from Overton On Dee. (22/09/14)
So far very impressed with new system, it's beautifully quiet, and we seem to be having less problems with wild temperature fluctuations needing lots of fiddling with the settings.

Thanks again for all your help getting it sorted.

Martin Rees Jewellers (28/05/13)
Would you buy a car without air-conditioning ? Get the most from your conservatory with air conditioning - Free quotations
Air Conditioning for Conservatories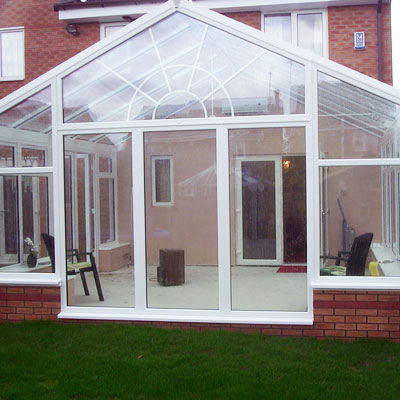 Why not use your conservatory all year round?
Air Conditioning can benefit your Conservatory extension in many ways. Keep it Cool in Summer and Hot in Winter, being the most important.
No Need to extend central heating pipes, as it is completely separate from your home heating. Used independently with easy to use controls.
External units can be hidden away so they do not effect the look of your garden or get in the way of children playing.
We have various designs available including floor mounted units and our heat pump technology is very energy efficient, some over 300%!
How efficient are Heat Pumps?
Heat pumps are around 300% efficient. This means that for every unit of energy used by the heat pump in operation, three or more units of heat are generated for use in a building.
As heat pumps work by extracting available heat from the outside air, they are far more efficient than even the most efficient fossil-fuel based heating systems.
Using an integrated heat pump solution to both cool and heat a building can also mean a lower initial investment, as well as simpler operation and maintenance procedures.
Days valid: Every day
Offer valid: 24/02/19 - 28/04/20
Cool your home / conservatory in summer - heat in winter - call for free survey and quotation.
Days valid: Mon, Tues, Wed, Thurs, Fri, Sat
Offer valid: 24/02/19 - 30/04/20